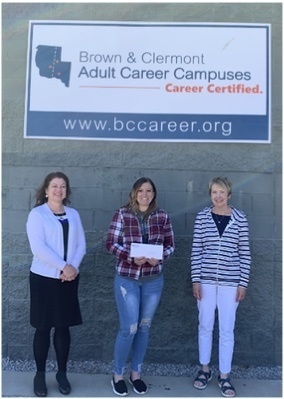 The Brown County Health and Wellness Foundation is a non-profit organization dedicated
to promoting the health and well-being of the citizens of Brown County. In the past several
years, the Foundation has awarded scholarships to students seeking a medical career. This
year, the Foundation decided to expand the scholarship program to include a student enrolled in the Emergency Medical Technician program (EMT) at Brown & Clermont Adult
Career Campuses.

EMT's are vital to our community as they provide initial emergency care to the sick and injured on the scene. Topics learned in the EMT program include anatomy, physiology and
pathophysiology. Aspiring technicians also learn on-the-job skills such as airway management, using oxygen, taking vital signs and using monitors, giving basic medications, putting
on tourniquets, splinting limbs and ambulance operations.


The Brown County Health and Wellness Foundation recipient for the 2021 EMT scholarship is Amanda Delaney. On the scholarship application, Amanda said she wanted to be an EMT because "I want to give back to my community. I've always been interested in First Aid and Emergency Care."


Amanda shared that the scholarship would benefit her because "I have 4 children at home so this scholarship will help me pay for this class and help me support my children".


Amanda successfully completed the course and passed the National Registry of Emergency Medical Technicians (NREMT) certification exam. She is currently employed full-time at Prestige Patient Transport and volunteers at Lynchburg Fire & Ambulance. Amanda intends to further her education by taking Firefighter and Paramedic courses.


Pictured is Adult Education Director Vicki Carrington, Scholarship Recipient Amanda Delaney and Foundation Member Teri Bauman. If you are interested in becoming an
Emergency Medical Technician, contact Brown & Clermont Adult Career Campuses for the next class! Bccareer.org